Are you struggling to lose weight and maintain a healthy diet? You may have a toxic fatty acid that blocks weight loss.
Here's how a simple "Ice Hack" speed up my fat loss and helped me restore my health, watch now.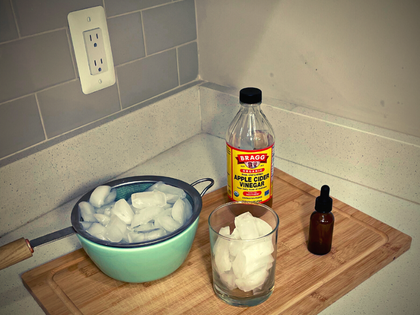 There's nothing better than a steaming bowl of chicken soup on a cold winter night. In fact, this chicken noodle soup completely warms your soul and that's exactly what your body needs when you feel tired or sick. In addition to the health benefits and warmth that this soup offers, it doesn't take a lot of effort to prepare.
The following homemade chicken soup is abundant in vitamins and minerals that improve your immune response and provides a lot of health benefits. On the other hand, preparing your own soup will also help you avoid the cans of soup in your grocery store as they contain too much salt and other toxic additives.
Prepping this recipe only takes 15 minutes, and the cooking time will take about 45 minutes. The recipe makes you 10 servings, and the preparation process is extremely simple.
Here is the chicken noodle soup recipe:
Ingredients:
1 tbsp. chopped fresh parsley
1 tbsp. lemon juice
3 cups (about 8 ounces) egg noodles
1 large onion, chopped
1 garlic clove, minced
2 bay leaves
4 medium-sized carrots, chopped
2-1/2 pounds bone-in chicken thighs
10 cups chicken broth
1/2 tsp. salt
1-1/4 tsp. pepper, divided
1 tbsp. canola oil
1 tsp. minced fresh thyme or 1/4 teaspoon dried thyme
4 celery ribs, chopped
Preparation:
At first, you should pat dry your chicken using paper towels. Then, season it with 1/2 teaspoon of pepper and salt. Now, in a large pot over medium heat, heat the oil. Cook your chicken with the skin down for about 3-4 minutes. Remove it from the pot, and take a couple of tablespoons from the dripping for later.
Add in your onions, and cook until softened about 6 minutes. Add the garlic and cook until fragrant, 1 minute more. Then, add the broth and bring it to a boil. Add your cooked chicken, bay leaves, celery, carrots, and thyme. Reduce the heat to a simmer, put the lid on, and cook for 25-30 minutes.
Afterward, remove your chicken from the pot, and add the noodles and let it stand, covered, for 20-22 minutes. Next, remove bones and any undesired pieces from your meat, and add the shreds to your sup. Add some freshly chopped parsley and lemon juice. Take out the bay leaves, and adjust the salt and pepper if necessary. Enjoy!
Source: powerofpositivity.com