Are you struggling to lose weight and maintain a healthy diet? Are you tired of diets that restrict your favorite foods and leave you feeling unsatisfied?
Here's how a simple "Ice Hack" improved my life and restored my confidence, watch now.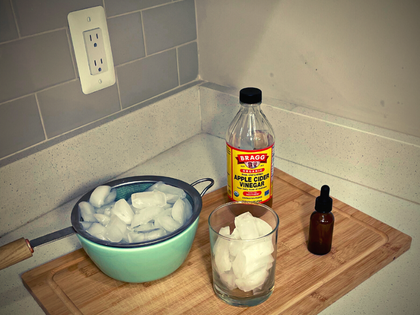 Looking for a healthy and comforting soup that's loaded with antioxidants and green veggies. If so, you will love this gut-healing garlic asparagus broccoli that tastes indulgent, yet is extremely good for your health. In addition, it only requires a bunch of simple ingredients.
Eating your greens is extremely crucial for your health and well being. However, many people forget their veggies or simply don't like them and always try to avoid them.
Fortunately, this gut-healing garlic soup combines a healthy portion of greens and garlic. In fact, asparagus, broccoli, and garlic taste great when combined together, and the gut-healing bone broth adds a few more benefits. A touch of lemon juice added near the end helps the soup keep its bright green color, adds texture, and enhances the flavor.
Here's the gut-healing garlic asparagus broccoli soup recipe:
Cooking time: 1h 3 mins
Preparation time: 10 mins
Portions: 4
Nutrition facts:
12 grams of fat
6 grams of protein
11 grams of carbohydrates
Ingredients:
1 tbsp olive oil
½ cup onion, diced
½ lb. asparagus, chopped
6 cups bone broth
4 garlic cloves, minced
½ lb. Broccoli florets
¼ cup coconut cream
2 tbsp tarragon, chopped
1 tbsp lemon juice
salt and pepper to taste
You will need a large stockpot, a food processor, and a small mixing bowl. A must part of building the flavors is cooking the veggies right. In fact, you have to learn how to build flavors.
"Are you tired of feeling anxious and stressed all the time? Do you feel like you're constantly struggling to keep your head above water? If so, we have the solution you've been looking for. Click here to watch this powerful video that lowers stress levels NATURALLY, plus it burns away stubborn belly fat"
At first, give the onions some time over medium heat to sweeten up. Give them 4-5 minutes until they are translucent. Cook and stir garlic and green onions in a saucepan until garlic is just golden for about 3 minutes, then add the asparagus and cook for 2 more minutes. Deglaze with bone broth and bring to a boil. Turn the heat on low and simmer in a stockpot until your veggies become tender. It usually takes about 25-30 minutes. Season to taste.
Pour the soup into a blender and blend in batches to avoid a mess. Puree until smooth. In a separate bowl, mix your lemon juice and coconut cream together. Serve the garlic asparagus broccoli soup in bowls, and drizzle with the lemon coconut cream. Enjoy!
Source: allrecipes.com