Are you struggling to lose weight and maintain a healthy diet? You may have a toxic fatty acid that blocks weight loss.
Here's how a simple "Ice Hack" speed up my fat loss and helped me restore my health, watch now.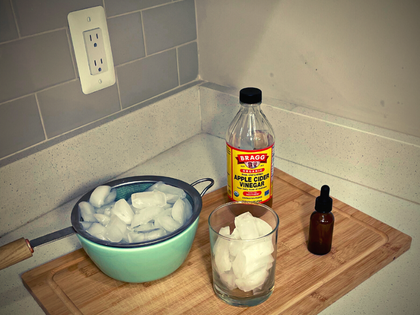 With the summer heat rolling in, staying hydrated is actually the most important thing. Therefore, this creamy cucumber salad is a great way to cool down your body. It takes just minutes to toss everything together. It uses simple ingredients such as celery, tomatoes, and spinach.
In fact, these nutrient-rich vegetables make a perfect way to refresh in a hot summer day, especially with the high water content.
Here are some cucumber health benefits:
Cucumbers are low in calories but high in beneficial nutrients such as vitamin K, C, magnesium, and potassium. Antioxidants in cucumbers have the ability to neutralize free radicals and lower the risk of cancer, heart disease, and autoimmune disease.
Aids in

proper hydration

which boosts the metabolism. Also, reduces the strain on your blood vessels and nervous system.
It is high in antioxidants and prevents complications in diabetics from oxidative stress, and supports the digestive system.
Here is the sour cream cucumber salad recipe:
This recipe is extremely easy to make it and tastes really good, even the pickiest eaters will love this salad. For alternative options, there are vegan and other variations below.
Ingredients:
½ cup sour cream
3 tbsp apple cider vinegar
½ tbsp honey
pepper to taste
4 medium-sized cucumbers, peeled and sliced
1 small sweet onion, sliced and separated into rings
Preparation:
In a bowl add the honey, apple cider vinegar, sour cream, and the pepper. Blend the ingredients until you get a homogeneous mixture.
Cut up the vegetables, and pour the dressing over them. Use a plastic cover to wrap the salad and let it rest in your fridge for 4 hours.
Herb version:
If you prefer a more herbal flavor, feel free to add a quarter cup of fresh dill to the dressing.
Vegan recipe:
If you are a vegan, you can change your sour cream with cashews. Just, soak 1 ½ cups cashews in 3/4 cup of water overnight. The following day, blend 1/2 teaspoon of sea salt, 2 teaspoons of apple cider vinegar, 2 tablespoons of lemon juice together with the soaked cashews.
Also, there is a quicker option including coconut milk. Take a can of full-fat coconut milk, and skim the cream off the top. Blend 1 cup of coconut cream with a tablespoon of lemon juice and a little bit of salt.
Use these vegan types as a dressing over the vegetables. Also, if you don't like taking too many calories, replace the sour cream with greek yogurt.
Source: theheartysoul.com